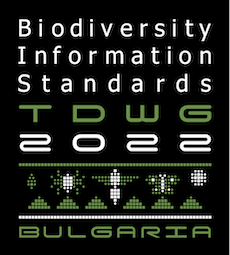 TDWG 2022
17–21 October
Last updated 9 May 2022
The Biodiversity Information Standards (TDWG) annual conference in 2022 will be a hybrid meeting, hosted in Sofia, Bulgaria.
Stronger together - in person or online! #tdwg2022
Although the pandemic appears to be waning in many countries, we expect that many organizations will still be limiting professional travel in the fall of 2022. Consequently, TDWG 2022 will be a hybrid conference; in-person for those who can travel, and virtual for those who cannot. The conference will accommodate symposia, workshops, contributed oral and poster presentations, demos, and discussions, as well as keynotes and social events. Session timing will be anchored to the working hours of Sofia, Bulgaria, where the in-person conference will be held. (UTC+3; EEST during the conference.) Sessions will be streamed live, as well as recorded and posted within hours for people participating remotely (registration required).
Deadlines
Register for TDWG 2022 - Early registration for in-person attendance ends 15 July 2022
Call for Abstract Submission - Deadline 1 July 2022
Call for Proposals for Organized Sessions - 15 April 2022, now closed
Registration
Early Registration is now open!
Registration costs differ for in-person or virtual participation. As in past years, registration fees include a discount structure, and help to defray the cost of abstract publication. Special discounts are in place for students, post-docs or early career researchers, and participants from low/low-middle income nations. You can even donate funds to support registration of those in need. Check out the link above for full details. When you are ready, use the button there to complete your registration.
Individual TDWG members and up to five representatives from member institutions enjoy a discounted normal registration. Not yet a member? Become an individual member or update your membership before registering for TDWG 2022. All current members (or the primary contact for institutional members) should have received an email (in early May) with discount codes. Members should know their code before registering.
If the cost of registration is a barrier to your participation in this conference, please contact conf-organizers@tdwg.org and briefly state why this is a barrier.
Abstracts
Abstracts are required for all contributions listed in the program (oral presentations and virtual posters) and will be published in our open access journal, Biodiversity Information Science and Standards (BISS) as TDWG Proceedings 2022. Presenters are required to complete conference registration before abstracts can be published.
The call for abstracts is out with a deadline of 1 July. Please see the list of organized sessions for symposia accepting contributions. Alternatively, open contributions for talks and virtual posters/infographics will also be accepted.
Notification of provisional acceptance of abstracts should be available to all authors within 15 days of submission or before 15 July (end of early registration).
Hosts and in-person logistics
TDWG 2022 is hosted by:
who cordially invite you to experience Sofia in-person and virtually.
Information about hotels and in-person events will be available soon.
Schedule
The conference will take place 17–21 October with full days of events starting at 9 AM (UTC+3; EEST) in Sofia, Bulgaria.
Working Sessions
Working sessions of the TDWG Interest Groups, Task groups, and Functional Subcommittees will be held separately after the conference. Details TBD. There may be time at the conference for some IG/TG meetings depending on program space.
Supporters
TDWG gratefully acknowledges the generous financial or in-kind support of TDWG 2022 by the following organizations:
Code of Conduct
By participating in TDWG 2022, you agree to abide by our Code of Conduct.
Contact Us
Please send questions to conf-organizers@tdwg.org.
Additional Information
Tweet #tdwg2022
---