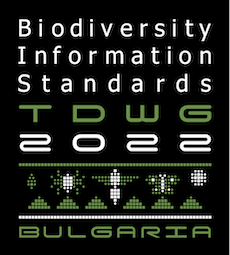 TDWG 2022 Call for Abstracts
Translations: ES, FR
We are pleased to announce the call for abstracts for TDWG 2022, the hybrid conference of Biodiversity Information Standards (TDWG), which will be held 17–21 October 2022 in Sofia, Bulgaria. Abstracts will be submitted to and published in Biodiversity Information Science and Standards (BISS). The deadline for abstract submission is 1 July 2022. Abstracts will be peer reviewed and final approval for publication requires payment of any registration fees by the presenter. Registration is now open. Content may be presented either in-person, virtually, or pre-recorded for TDWG 2022. Sessions will be recorded and made available initially only to registered attendees.
About the conference
The theme for TDWG 2022 is Stronger Together: Standards for linking biodiversity data. In addition to opening and closing plenaries, the conference will feature 14 symposia and a mix of other formats that include lightning talks, a workshop, and panel discussion as well as contributed oral presentations and virtual posters.
What you need to know
Examine the List of organized sessions to see which sessions will consider unsolicited presentations fitting your topic. Don't worry if none applies (you can submit a virtual poster or a contributed oral presentation)
When you are ready to start your abstract, follow the Instructions for Authors for Abstract Submission - deadline 1 July 2022
See where abstracts will be published in TDWG Proceedings 2022 and view past in collections in BISS (check out the media tab in individual abstracts for added content such as links to slides and video)
Want to know more about how your abstract will be edited? See Instructions for Editors
Abstracts will be flagged as Accepted with revisions by the 15 July early registration deadline so that presenters may take advantage of reduced rates and begin planning to attend the conference.
By participating in TDWG 2022, you agree to abide by our Code of Conduct and Terms of Use
Please send additional questions to: conf-organizers@tdwg.org
Last updated 10 May 2022