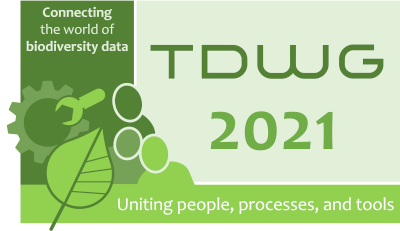 TDWG 2021 Call for Abstracts
We are pleased to announce the call for abstracts for TDWG 2021, the virtual conference of Biodiversity Information Standards (TDWG), which will be held 18–22 October 2021. Abstracts will be submitted to and published in Biodiversity Information Science and Standards (BISS). The deadline has been extended to 20 August for submission of abstracts for posters only. The deadline for the submission of other abstract types was 2 August 2021. Abstracts will be peer reviewed and final approval for publication requires payment of any registration fees by the presenter. Content may be presented either live or pre-recorded for TDWG 2021. Sessions will be recorded and made available initially only to registered attendees.
About the conference
The theme for TDWG 2021 is Connecting the world of biodiversity data: uniting people, processes, and tools. In addition to opening and closing plenaries, the conference will feature 15 symposia, 2 workshops, a panel discussion, and an unconference, as well as contributed oral presentations and posters. There will also be opportunities to network and socialize on the Whova platform, chosen to host this year's conference.
What you need to know
Last updated 6 June 2021